AggieCatholic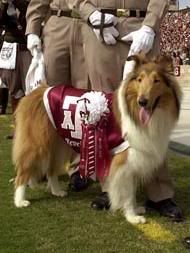 ... You might be an Aggie Catholic.

If "Whoop!" is included with your responsorials...
If your pastor begins a homily: "Now here are five ways you can avoid..."
If you whip out during the sign of peace...
If the opening ritual of the Mass begins "Howdy..."
If you have ever sung Pange Lingua to the tune of the War Hymn...
If you think Muster, E-Walk, or a t.u game should be feastdays...
If seeing a gun rack on your priest's truck causes you to think of squirrel soup...
If you love philosophy due to the library's collection of Aquinas...
If you have ever asked your priest to bless your boots- and he accepted...
If while singing the Angus Dei, you remember hunting season opens next week...
If you've wished for Fr. Kurt to consecrate the wheat tortilla's at Freebirds!...
If you think Maroon is a liturgical color...
If Old Sarge or Miss Reville are included in the Litany of the Saints...
If someone says "Lumen Gentium/Catechism/Humane Viate" and you don't think it's a disease...

If you walk into daily mass- and think for a minute it's Sunday...You might be an Aggie Catholic!