Farmers WHOOP!
First, a collective "Awwwwwww!" Now, I am a rancher. My grandpa is a farmer- he grows corn and soybeans up in MN, on the Iowa boarder. Me, though, I love sheep and cattle. I don't mind a hog or two ever couple years, or keeping a few chickens around, but for income, it is sheep and cattle (well, I had to sell everything off to afford tuition, but once I am out of school, I will start up again). I absolutley love 'em. Give me a good suffolk/hamp cross flock, a few chi's or charlet's- angus if I must, and a schedule that runs something like 5am to 5pm doing nothing but solid physical work, and I am the happiest person in the whole entire world. I simply love working the land, feeding my animals, fixing fences, meding tack, doing stuff in the barn, working the flock, mowing hay, shearing, all of that back-breaking labor, I love.
This is why it saddens me so that the family farm is becoming a thing of the past. You can barely keep a small (let's say less than 50 head) ranch afloat today. The government wants low food costs, and we have them- lowest in the world, -but it is absolutely killing the farmer, and subsidies just don't help out that much. The "animal industry" really has turned into an industry. Chickens, pigs, and dairy- they are all vertically integrated. Sheep and cattle are lucky- it is going to be very hard to vertically integrate them because of their requirements. There is not a quick turnover- 6 weeks before chickens are ready for breeding or slaughter, 2 days to 2 weeks to wean piglets, and dairy cattle needs explain what happened to those industires. It isn't yet feasable to keep hundreds of cattle in a dirt pen on feed for anything other than slaughter. We still rely on pasture grazing for our cows and wean/year-lings.
Sigh. I don't really have much to say but that I hope I am able to get a good job once I'm out of school. Ranching, if I'm good at it- which I will be ;), can pay for itself and a little, but you aren't going to be surviving on that income alone by any means. St. Isidore, pray for us!
Here, pictures of some of my old show animals just for ya'll: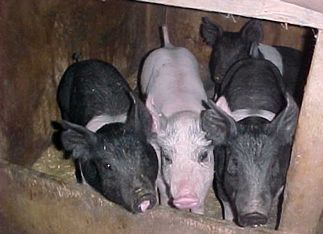 These guys are absolute BABIES, they are about 300lbs at slaughter, 800 if you let them get full grown!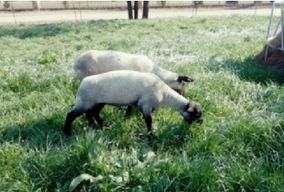 Show sheep- the first two are medium wools (meat sheep, suffolk hamp X's), the second is a Southdown.