JPII Intercessions: Apply Here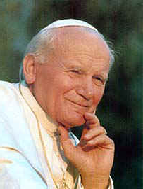 Remember the
prayer
Zenit reported for the intercession of JPII?
"The cause for beatification begins solemnly this Tuesday in Rome. Monsignor Slawomir Oder, postulator of the cause, explained that the Web site "already has different sections in several languages, which will gradually be completed, to give visitors worldwide the possibility to follow directly the development of the cause for beatification."
Here
is the website for anyone who wishes to report miracles! It is exteremely slow for me, I imagine it is recieving more than a few hits, especially since
Zenit has linked
to it.
JPII, we Love you!